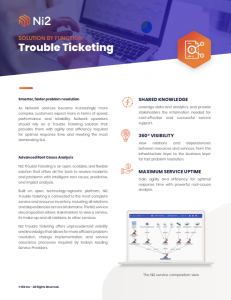 Ni2 Trouble Ticketing Datasheet
As Network services become increasingly more complex, customers expect more in terms of speed, performance and reliability. Network operators should rely on a Trouble Ticketing solution that provides them with agility and efficiency required for optimal response time and meeting the most demanding SLA.
Download the Datasheet >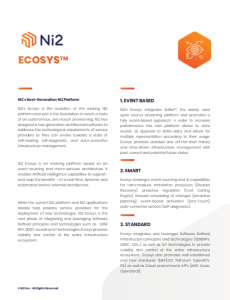 Ni2 Ecosys Technical Paper
Ni2's Ecosys is the evolution of the existing Ni2 platform and sets a the foundation to reach a state of an autonomous, zero-touch provisioning. Ni2 has designed a new generation architectural software to address the technological requirements of service providers so they can evolve towards a state of self-healing, self-diagnostic, and auto-corrective infrastructure management.
Download the Technical Paper >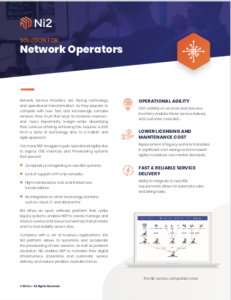 Ni2 Network Operators Datasheet
Network Operators are the foundation of the Digital Transformation. Yet, as they scale operations to meet the growing demand for high-speed broadband and new technologies, their incremental costs are impacting their margins. Human-processed service delivery is no longer viable option, either from customer value, nor revenue.
Download the Datasheet >